In honor of back to school (and my long days spent in the classroom already), this week's post will be all about my favorite notebooks. I have a serious notebook fetish. I could collect any and every notebook I see if I didn't want to go broke. There is just something exciting and refreshing about a nice, clean, new notebook. I use my notebooks for lists, inspiring quotes, story writing, sketching, and journaling. If I keep going this way, some day there will be a shelf in my house just devoted to notebooks!
I Love
Composition books by Compendium, Inc.
I first fell in love with Compendium's products when I spotted them in a bookstore in Coconut Grove, Florida. I purchased a mini composition book with an inspiring phrase across the front and stored it in my handbag to record my thoughts. I love Compendium notebooks for their "live inspired" messages and soft creamy paper. Definitely a good investment for anyone that wants to put pen to paper for their hopes and dreams.
Smash Retro Folio (found at Target or Michael's)
A Smash book is the best of both worlds: a notebook and a scrapbook. Could life get any better? I love scrapbooking but rarely have time for it anymore but I also love adding my thoughts on a particular event. Smash books are like a scrapbook with funky pages of scrapbook paper but they are also the perfect place to add a few details here and there about the going-ons in your life. I love all the products in the Smash line but again I have to be careful or I'll go broke.
I'm so in love with you notebook by mypipsqueak
This is the notebook my boyfriend, Nick, bought me for our first anniversary. This absolutely beautiful hand designed notebook is the perfect place to chronicle all of our adventures. I love having a special place to record all of our memories, big or small.
I Want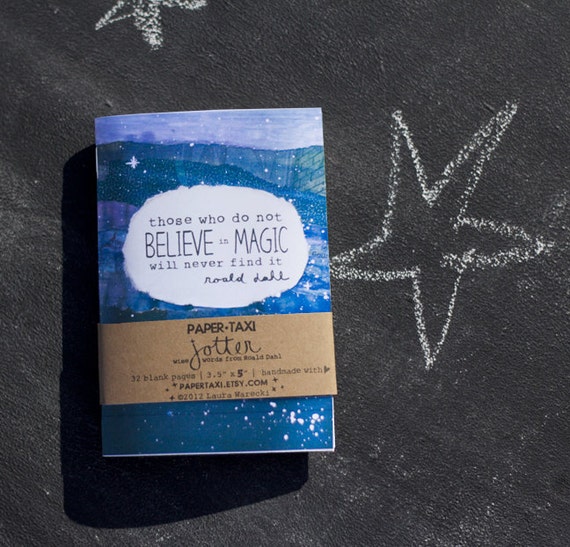 Roald Dahl quote mini notebook by paper taxi
When I spotted these notebooks on etsy, I was so excited. There's nothing better than a good Roald Dahl quote than a notebook with a Roald Dahl quote on the cover. This would be the perfect notebook to carry in my purse and jot down little pieces of writing when I'm out and about.
A Moleskine notebook
Moleskine notebooks are the one notebook that receives constant buzz across the internet. They're a little pricey compared to my tried-and-true options but I want to know why everyone loves them. Perhaps they make your words magical?
A brown leather journal
There's something romantic and real about using a leather bound journal to record your thoughts. I always wanted to purchase a leather journal to pack in my bags and find a plane to whisk me away on an adventure around the globe. Perhaps I do get too carried away by my notebooks! But there's something so old-fashioned and inspiring about a classic leather journal.
Are there any notebooks you love writing in?